Magical Encounters : Dolphins and You
Have you ever dreamed of swimming with dolphins in the wild? Of having authentic, natural encounters with these majestic creatures on their terms? Of looking into their eyes as they approach and swim alongside you, knowing that they are also watching, and really seeing you?
Swimming with wild dolphins is something that many of us have dreamed of, not only as children but throughout our adult lives. Their absolutely spontaneous joy, their inquisitive curiosity, their intelligence and the emotional connection we feel with them, captures our imagination. And there is truly nothing more magical than being surrounded by a large family pod of dolphins as they welcome you to join them in their joyful play.
If this has been your dream, if you long to reconnect with your playful inner child, to let go of your inhibitions, to spend a week learning to deeply relax and connect with your deeper source of energy, and to immerse yourself in one of the most beautiful experiences know to humankind, then don't hesitate.
In 2020 we will be running two Magical Encounters retreats - on 4-11 April, and again 14-21 November. We have a very limited number of places available on each of these magical weeks of relaxation, fun and magic in the Red Sea… so dive right in!
WELCOME TO SATAYA REEF
We invite you to join our Magical Encounters week aboard the beautiful Enigma yacht, at Sataya Reef, a shallow protected natural offshore bay, where a large pod of dolphins spend most of the their days resting, playing and mating, before heading out to sea again at night to hunt. This will be our home for the week, where we can swim in the warm, shallow and clear waters, explore the reef, and where we too will rest, play, and much more.
Water temperatures vary between 23 degrees in January and up to 30 degrees in August/September. Inside the protected bay is a maximum 12 metres depth, with options for diving up to 30-40m outside the reef in good conditions for confident freedivers.
WHO IS THIS WEEK FOR?
This week is for anyone whose heart beats faster when they think of swimming with wild, free dolphins. It is for all of you who have a passion for wildlife, and want to experience this once-in-a-lifetime opportunity to swim with a completely wild pod, on their terms.
FREEDIVERS : For beginner freedivers this is the perfect place to start learning - in warm, clear, shallow water, we will be offering Holistic Freedive coaching during the week, to explain our spiritual and biological connection with our marine cousins, to allow you to experience the water and your dolphin interactions in a more confident, relaxed and playful way.
For certified freedivers, this is a wonderful opportunity to learn a new, more natural and integrated approach to the sport, without pushing or focusing on numbers, but connecting with your deeper innate potential which is just waiting to unfold. And of course you are free to swim with the dolphins and use your freediving skills to play in the ocean from sunrise to sunset each day if you want.
SWIMMERS : It is essential that you feel confident in and around the water without a life vest. If you can swim but struggle to relax in the water and feel drawn to this encounter, we can help you to feel more relaxed by teaching you basic breathing and breathhold techniques, and demonstrating how we, as human beings, belong in the ocean, and being here with the dolphins is actually a process of coming home.
YOGIS AND YOGINIS : We will also be offering gentle yoga and meditation sessions each day at sunset for anyone who is interested in exploring the inner landscapes of their body, heart and mind in all-level practices led by Sara and Jean Philippe.
ACCOMMODATION
We look forward to welcoming you on board the beautiful 32 metre diving boat, our home for the week, the Enigma. This stunning, newly-renovated boat can sleep up to 24. However, in order for all of our guests to feel really at ease, and have plenty of personal space, we guarantee that all solo-travellers have a private cabin, as well as offering a choice of superior seaview and standard cabins to allow for various budgets.
The boat has been thoughtfully renovated to make intelligent use of all the areas. The lower deck has four standard cabins, and one standard suite. The main deck has a further six superior seaview cabins plus a master or family cabin for anyone wanting to bring their children. All cabins have their own a/c unit and private ensuite bathroom.
Images above from left to right : standard cabin, superior cabin and master/family suite
The upper deck is where we will relax, read, share stories, laugh and learn together, as well as eat and drink. It has a spacious and air-conditioned lounge-dining space, as well as a gorgeous terrace with sofas and tables. There is a bar service available for any cold or hot drinks that you might want during the day.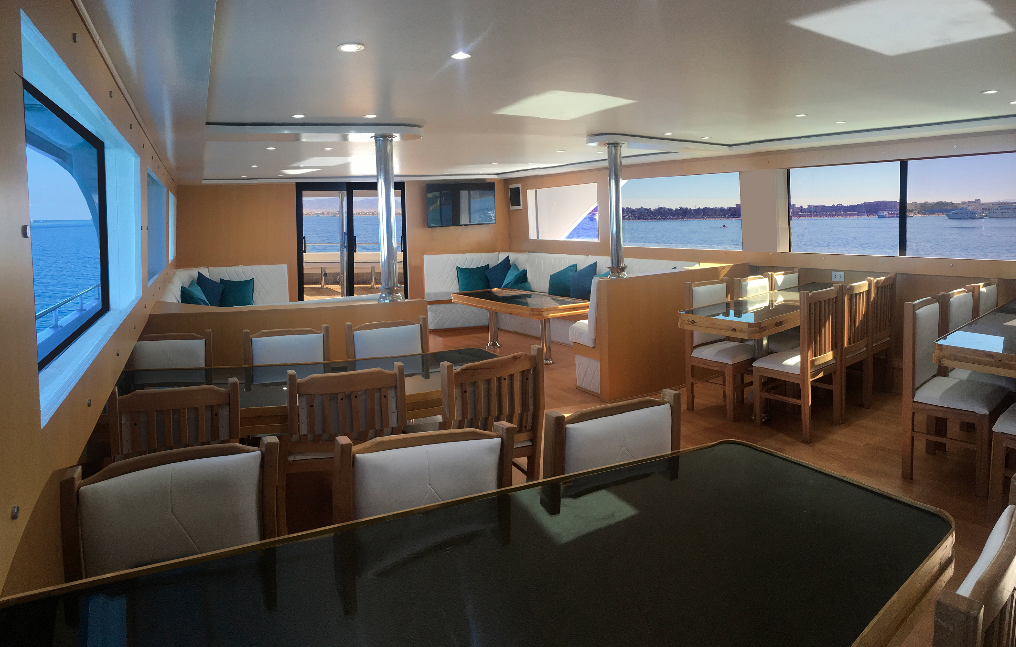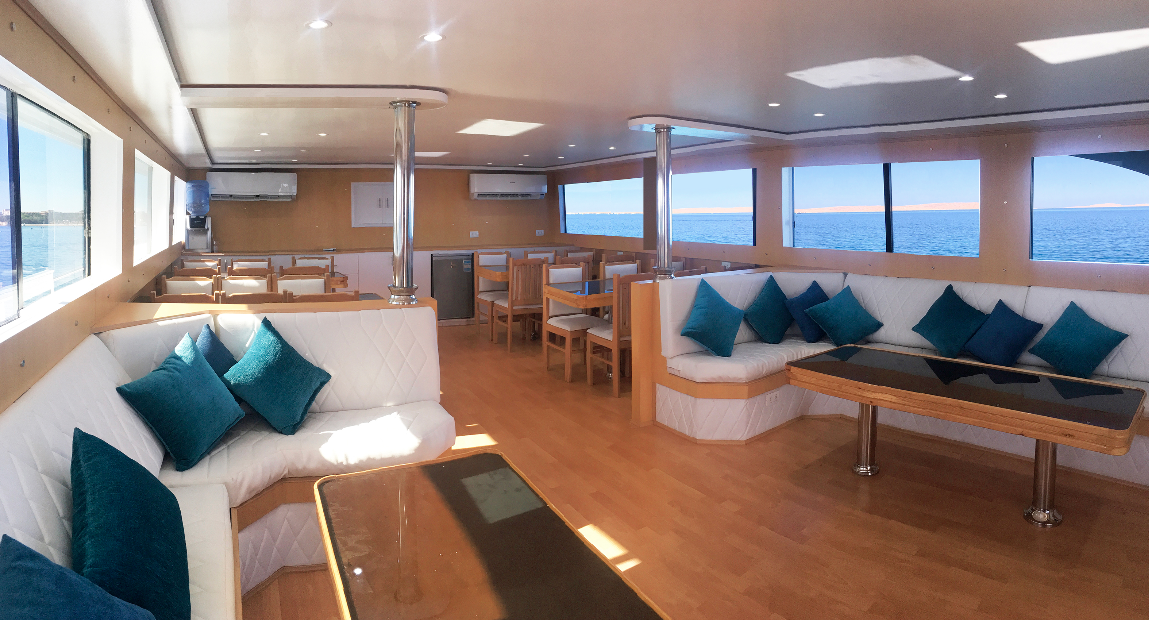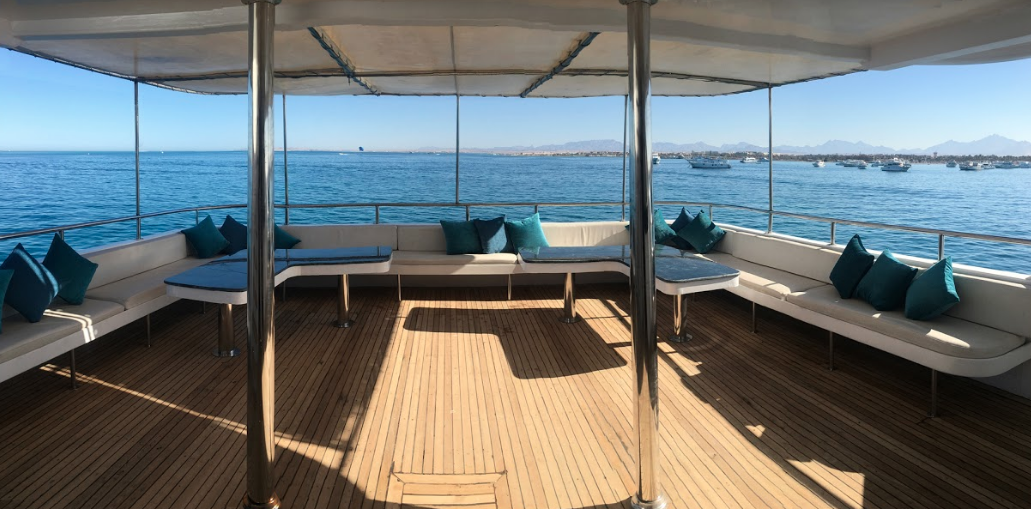 Finally the sun deck is a beautiful open-air space with sofas for relaxing and sunbathing during the day, sleeping on at night, and this will also be the area where we will practice our yoga, meditation and pranayama each morning and evening.
DAILY SCHEDULE
Our daily rhythm will, to a certain extent, be dictated by the activity and moods of the dolphins. As these are totally wild creatures, they follow their inner clocks and the rhythm of the tides and seasons as well as the day and the night. Their normal pattern is to spend the nights hunting at depth out in the blue, and, as the sun begins to rise, they return to Sataya Reef to relax, rest, sleep, play and mate. However, we are unable to guarantee their appearance at any time throughout the week and invite you to see their presence, whenever they do come, and a very special blessing - they have chosen to return to visit us.
We recommend waking with the sunrise while onboard - not only is it a very beautiful and moving opportunity to watch the golden light rising over the Red Sea, it is the time when the energy of the day is gathering and you can connect with this powerful yet peaceful inner energy within yourself. We offer a daily 30-minute meditation or pranayama practice at 6am to prepare you for the day. This practice is perfect preparation to meet the dolphins with a calm, connected and open energy, to be able relax in the water without expectation, and allow them to come and share their incredible energy and love wth you.
Breakfast is served around 8am, after which we will meet for a Holistic Freediving lecture explaining our spiritual and biological connection with the ocean and these magnificent creatures. Even for those of you not interested in freediving this is an opportunity to learn about your connection with Nature and see yourself in a new, fascinating, and possibly surprising perspective.
The rest of the morning will be split - for those who wish to have Holistic Freediving coaching, we will spend an hour or so learning basic breathhold and relaxation techniques in the safe and controlled environment of our coaching buoys; those not wishing to join us are free to relax, or, if the opportunity arises, to swim once more with the dolphins.
Lunch is around 1pm, and the afternoon is again free and flexible time - relax, read a book, chat, swim, jump from the boat, and if they're in the mood, swim with the dolphins.
At sunset we will gather on the upper deck for yoga and meditation, and then head down to dinner before settling in for the night, being rocked gentle to sleep by the movement of the Enigma on the waves.
ABOUT THE DOLPHINS
As marine mammals, dolphins need to return to the surface every few minutes or so to breathe. This means that even while sleeping, they remain semi-active; dolphins have evolved to allow one half of their brain to sleep, while the other remains alert to ensure they keep breathing, before they then switch to the other half of the brain.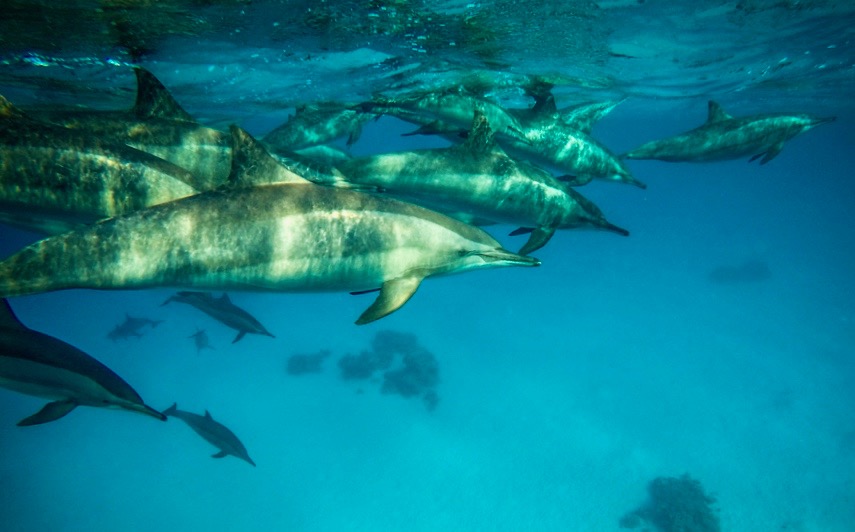 This means that their sleep looks very different from ours, but it is fairly easy to recognise when a pod is sleeping - their movements will be calm, slow and relaxed and they can be seen cruising around the bay - at these times we want to leave them alone. On the contrary, when the dolphins wake up and feel playful, you will know that they're ready! Their movements become much more exaggerated, with them swimming fast, bumping each other, chasing, playing and even jumping. These are the moments when it is most fun to get in the water with them, and wonder at their grace, athleticism and playfulness. We invite you to observe your attitude when in the water with them - the temptation to chase and follow them will be huge, but can you be in the moment and allow them to come to you? We promise you, the experience when they do is one of the most incredible feelings you can have!
HOLISTIC FREEDIVING
We wish to invite all of you to join these sessions where we explain the fundamental principles of our relationship with ourselves, through the mirror of the ocean. As human beings we have an intimate and innate knowledge of the water - we evolved from aquatic creatures millions of years ago and as such, still retain a latent memory of living in the ocean.
Through her freediving career, Sara learned how to reconnect with this latent wisdom within her body, and now her greatest passion is to share this knowledge with others. Jean Philippe co-teaches alongside her to help students relax deeply and feel safe and held in the water. Whether you wish to freedive, or simply expand your understanding of yourself, your potential, and your place in the Universe, we highly recommend you to join these fascinating and fun interactive sessions throughout the week. You can find out more here.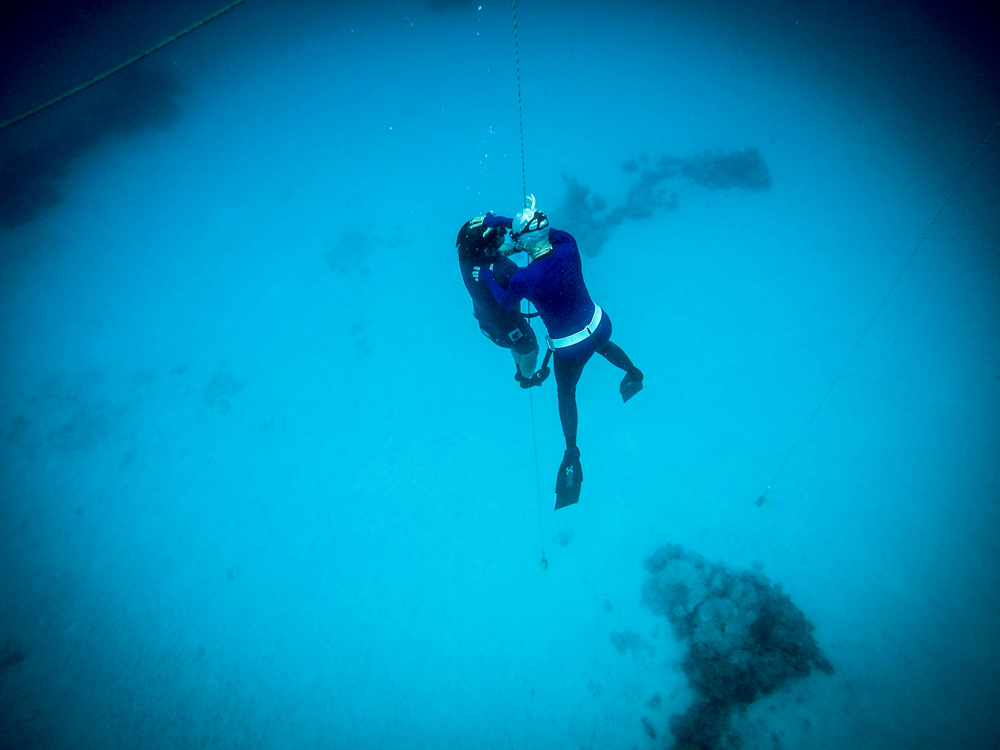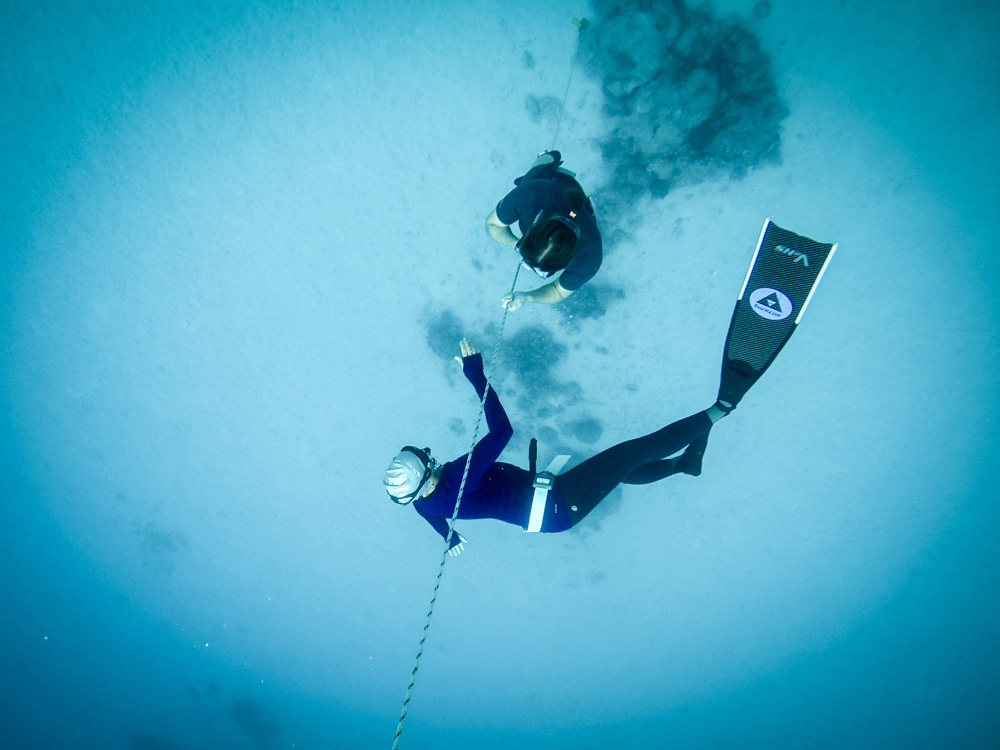 YOGA AND MEDITATION
For Sara and Jean Philippe, yoga and meditation and Holistic Freediving are one and the same thing. The word 'yoga' simply means 'union' or 'connection' and, while they come from different lineages in their personal practice and professional training, they share the same belief - that yoga and meditation are key tools for us in the modern world to connect back to a more healthy, gentle, and authentic way of living.
Their sessions each day at sunrise and sunset are all-level, meaning that everyone can join, including complete beginners, and those with injuries or illness. The sessions are an opportunity to draw your awareness inwards, to experience the subtle sensations within your body and to reflect on their connection with your mind. Over time, this awareness can be refined to direct the mind to instil calm in the face of stressful situations, to connect with peace in the face of conflict or challenge.
If you have any concerns about joining our sessions, we invite you to speak to us in private before joining the week.
TRAVEL
We are blessed to have people from all over the world join our retreats, but this does make planning the travel a little bit complicated. Please read the following information carefully and let us know if you have any questions.
You need to organise your flights into either:
Marsa Alam arriving BEFORE 16:00 on 14th | Departure AFTER 14:00 on 21st

Hurghada arriving BEFORE 11:00 on 14th | Departure AFTER 19:00 on 21st
Please note that due to the eight-hour drive from Hurghada to the boat, we recommend flying in to Marsa Alam wherever possible.
MARSA ALAM ARRIVALS:
There will be two main pick-up points for the arrivals transfers in Marsa Alam:
if arriving between 14:00-16:00 on 14th at Marsa Alam you will be picked up at the airport

if arriving significantly earlier than 14:00 on 14th we suggest you take a room at the Marine View Hotel which is 7km from the airport (le400 single occupancy, and le500 double occupancy, transfer from airport to hotel le200 for 1-3 people) for pick-up around 16:30 to the boat. We will confirm your hotel booking for you, you need to pay on arrival.
HURGHADA ARRIVALS:
There are two pick-up points for those of you flying in to Hurghada:
if arriving between 10:00-12:00 on the morning of 14th you will be picked up at the airport

if arriving significantly earlier than 10:00 on 14th we suggest you book a room at the SolYMar Ivory Suites which is about 5k from the airport ($35 single occupancy, and $47 double occupancy in a large apartment suite, transfer around $10 for up to four people) and be ready for pick-up by 12:00 midday on 14th. We will confirm your hotel booking for you, you need to pay on arrival.
The transfers above from the two airports and respective meeting point hotels is included in your package for the week.
If for any reason your flights come in after our arrivals pick-up times, we can arrange a private transfer for you at extra cost (approximately le1000 private from Hurghada to the boat, one way). Due to the long transfer times to Hamata Port (two hours from Marsa Alam, eight hours from Hurghada), the absolute latest your flight can arrive is midnight into Marsa Alam and 18:00 in to Hurghada. Earlier flight departures are more complicated as we cannot bring the boat in to port early and cut everyone's holiday short.
We will meet on the boat around 18:00 on 14th November, enjoy a welcome dinner, settle in to our cabins and sleep in port that night. We leave before sunrise the following morning to travel to Sataya Reef, where we will spend the week. The boat will return to port and we will disembark at 10:00 on Saturday 11th, with transfers to take you on to the airports or the Marine View Hotel or SolYMar Ivory Suites ahead of your departure flights.
MAGICAL ENCOUNTERS PACKAGES
This is a week to relax, forget about the real world, and leave behind all worries, cares, responsibilities - including money! This time we are offering several packages to cater for more varied wishes and budgets. Please note that prices are per person.
UPPER DECK
MASTER / FAMILY SUITE : this spacious master or family cabin, with ensuite bathroom with bathtub and shower, offers a beautiful double bed with amazing views for a couple, with the option of an adjoining bunk room for kids.

PRICE MASTER CABIN : £1650 for single occupancy | £1450 for double occupancy

PRICE BUNK ROOM : £1250 for the room

SUPERIOR SEAVIEW : these beautifully bright and airy superior seaview rooms have two single beds, with door and window opening to the deck. There are six superior seaview cabins available

PRICE : £1650 for single occupancy | £1450 for double occupancy
LOWER DECK
STANDARD SUITE - this cabin with double bed and ensuite bathroom with bathtub is perfect for a couple wanting a cosy nest for their week on board with us. Please note : due to the extra space in this cabin we price it as an upper deck room

PRICE : £1650 for single occupancy | £1450 for double occupancy

STANDARD CABINS - these spacious cabins each have two single beds with small porthole windows which can be left open at night when on anchor. The door opens to the lower corridor. There are three standard cabins available.

PRICE : £1450 for single occupancy | £1250 for double occupancy
We will allocate the suites on a first come, first served basis so please let us know if you would like to reserve either of these special suites. All cabins have their own individual a/c units, ensuite bathrooms, and storage space. Superior cabins have a mini-fridge and there are plans to install fridges also in the standard cabins by April.
Images above from left to right: Standard cabin, suite bathroom, and bunk room adjoining family suite
We strongly recommend bringing SOFT luggage, such as rucksacs or duffel bags, that can be folded away - rigid or trolley suitcases cannot be stowed on the boat and will take up space in your cabin.
REGISTRATION
Please select the deposit payment option in the dropdown menu below to secure your place with a down-payment of just £250 per person. We then ask for two further instalments - six and three months before departure - according to your chosen package.
Included
seven nights accommodation on Enigma
transfers to and from the boat
all meals and drinks
all yoga, pranayama and meditation sessions
Holistic Freediving lectures
Holistic Freediving in-water coaching
Not Included
international flights
local short-stay hotel and transfer fees
National Park fees (currently €12 per person)
scuba diving and equipment
tips for the crew (€40 per person as suggested guideline)
WHAT TO BRING
yoga mat

loose clothes for relaxation and yoga

light wetsuit/triathlon suit (3mm max) for extra warmth, or long sleeved rash vest for sun protection while swimming

mask, snorkel and fins

suncreams - please buy organic, reef-friendly creams, as well as organic shampoo, conditioner and body wash

light clothes, shorts, sun dresses, sarongs, t-shirts

refillable water bottle / thermal mug for tea

warmer layers for the evenings (hat for after diving if windy) and travel

good books

diary or journal and pen

earplugs if you're a light sleeper
Thanks to and copyright © Francois Le Page for many of the images
ABOUT SARA AND JEAN PHILIPPE
Sara and Jean Philippe will be your teachers and guides in this wonderful journey, offering Holistic Freediving coaching and yoga and meditation practices that help you to awaken and balance your inner energies and align them with that of Nature and the ocean. Sara has been teaching Kundalini for over 15 years, and Jean Philippe teaching and practicing a range of disciplines for over 20 years, creating his own unique style of nourishing, restorative practice.
MORE ABOUT YOUR TEACHERS
Sara has been guiding people to discover their depths since long before becoming a world champion freediver. Her journey of self-healing from severe stress-related illness led her to become a Kundalini yoga teacher and ultimately brought her to a new life in the ocean. Here she truly began exploring the concepts of life, happiness, success and failure, and how to reach our human potential, both in and out of the water, on and off the mat. Sara looks to nature for the wisdom that it can impart, and how we can learn to live more in balance with ourselves and our surroundings.
Sara teaches yoga, meditation and freediving internationally, and also provides spiritual coaching to help people explore beyond their perceived limits. She has been involved in several TV documentaries on freediving and human potential, is the founder of Discover Your Depths, and has created her own online training programme, Yoga for Freediving.
Jean Philippe has been practicing yoga for more than 20 years. A difficult childhood and life's circumstances brought him instinctively to sit in deep meditation about the fundamental questions of our existence; the meaning of life and death, the nature of being and our deeper identity, happiness and suffering, the search for meaning and freedom.
Certified to teach since 1999 he has been educated in various lineages including Sampoorna Yoga with Sri Yogi Hari (USA), as well as with the Swamis of the traditional monastic south Indian ashrams of Yoga Sivananda (Chennai and Neyardam, India; and Paris, France). Jean Philippe's practice and teaching continue to be inspired by the many teachers of various lineages and traditions that he has been touched by over the years in workshops and seminars in Belgium, and on retreats and travels around the world.
Through structured and flowing classes, Jean Philippe invites his students to connect actively with their body, their breath and their awareness by accepting and respecting the limitations we may experience moment to moment. He reminds his students to return to and nurture a sense of deep peace, balance and oneness that is the core purpose and focus of yoga.
He is also a highly experienced meditation practitioner and teacher, having spent many years studying traditional Buddhist techniques with reknowned masters.
Recently over three years, Jean Philippe created and delivered a programme of stress management and wellbeing in the workplace for the senior management for the investigative branch of the technical and scientific federal police of Belgium.
if you wish to contact us to discuss this or any of our other retreats or programmes, or wish to enquire about creating your own bespoke retreat or coaching course, then please do not hesitate to get in touch with us directly via email - if you prefer to discuss this via phone, please just send us an email with your question and your phone number.